Forward Radio 106.5
Forever Chemicals; Exposure of the Massive Public Health Crisis
with Teena Halbig speaking with Single Payer Health.
Airing for one hour:
MONDAY, Dec. 20 at 2:00 P.M. - 3:00 P.M.
Tuesday, Dec. 21 at 7:00 A.M. - 8:00 A.M.
Wed. Dec. 22 at 11:00 A.M. - 12:00 Noon
Gov. Beshear Warns of Powerful Storm Moving Through Kentucky Tonight
Entire commonwealth at risk for severe weather
FRANKFORT, Ky. (Dec. 10, 2021) – Gov. Andy Beshear is warning Kentuckians that a powerful storm system is forecast to impact much of the commonwealth late tonight and into Saturday morning. The Friday night forecast calls for severe thunderstorms and the potential for high-level damaging winds. Tornadoes are likely in Western Kentucky and portions of Central Kentucky.
Intense downpours and high rainfall rates are likely to produce localized flooding issues. River flooding is also possible. Widespread power outages and roads blocked by debris are also possible across the state.
"Kentuckians should follow their local forecasts as this storm front moves through our state," said Gov. Beshear. "Folks need to have plans for safely sheltering in place in the event of a tornado, and they need to be prepared in case there are disruptions to local utilities."
Since this will be an overnight event, Kentuckians are advised to have ways to receive weather warnings during the night. Those living in vulnerable locations should consider finding lodging elsewhere. Everyone should stay away from any downed power lines.
In preparation for tonight's storm, the State Emergency Operations Center (SEOC) will activate at 8 p.m. EST. Staff will monitor the storm system as it moves across the state and respond to any requests for assistance.
"The National Weather Service and the Federal Emergency Management Agency are forecasting a very strong weather system entering the western part of the state today at 8 p.m. CST and moving east throughout the late night into the mid-morning hours on Saturday," said Michael Dossett, director of the Kentucky Division of Emergency Management. "This is a dangerous system with conditions that are favorable for severe thunderstorms, longer-lived tornadoes, supercells and squall lines."
Dossett continued, "Prior to the storm event is an excellent time to engage in a family review of your safety plan and emergency supplies, in preparation for any possible impact to your community. Make every effort to monitor news and weather reports for storm updates in your area."
This storm is arriving during Kentucky's Winter Weather Awareness Week, which underscores the importance of reviewing emergency plans, building or resupplying emergency kits, and educating others on the hazards of winter weather: "Be Aware – Be Prepared – Have a Plan!"
Virtual Public Meeting: EPA and Army Take Action to Provide Certainty for the Definition of Waters of the United States(WOTUS)
Waters of the United States | US EPA
PFAS Pollution Could Last Millennia. KY Officials Told Polluter, But Not Reaidents
PFAS pollution could last millennia. Ky. officials told the polluter, but not residents – 89.3 WFPL News Louisville
Henderson Kentucky Grapples With Widespread Teflon Pollution
Henderson, KY humongous PFAS contamination heading to Ohio River

The most detailed map of cancer-causing industrial air pollution in the U.S.
The Most Detailed Map of Cancer-Causing Industrial Air Pollution in the U.S. | ProPublica
FFEA is a Co-sponsor for this Free Zoom Meeting
Be sure to zoom in to know more about PFAS (per-and poly- fluoro - alkyl substances) which President Biden pledged to help with PFAS. He is delivering since U.S. EPA Administrator Michael Regan announced Oct. 18, 2021 a PFAS Action Plan. In the years to come, this word will be known by most eveyone. Find out how dangerous and harmful these chemicals are because they cause serious illnesses and cancers! Learn more about PFAS for the sake of your children, babies, youths, the elderly and everyone - and especially COVID patients
Time: Oct 26, 2021 10:15 AM Eastern Time (US and Canada)

Join Zoom Meeting - click on this URL Link; if it does not work, copy the link and paste in your browser.
https://us02web.zoom.us/j/89132339719?pwd=UWVKQ2xZbTFZeURWTHlDWHVhMXRnQT09

Meeting ID: 891 3233 9719
Passcode: 859695
Louisvillehas the 2nd highest level of GenX.
https://www.nytimes.com/2021/10/20/business/chemours-dupont-pfas-genx-chemicals.html
EPA Administrator Regan Announces Comprehensive National Strategy to Confront PFAS Pollution
Air Quality Info From WHO
https://www.wtnh.com/news/health/un-health-agency-sets-higher-tougher-bar-for-air-quality/
Whistleblowersneed you to ask Congressional Members to take action:
https://anh-usa.org/whistleblower-testimony-on-epa-corruption/
This is a link to Fish and Wildlife re: Chronic Wasting Disease(CWD) in Deer
KY is surrounded by areas with CWD and should become aware by going to this link:
https://fw.ky.gov/Wildlife/Pages/Chronic-Wasting-Disease.aspx
High levels of PFAS "forever chemicals" have contaminated the area around a plastics recycling company in Henderson, Kentucky. (WFPL News)
or use https://wfpl.org/concerning-levels-of-forever-chemicals-polluting-henderson-ky/ PFAS STORY LINK
Bayer to end residential sales of cancer-causing weedkiller glyphosate by 2023
Read the article in full using this link and also a petition:
https://www.ewg.org/news-insights/news-release/2021/07/bayer-end-residential-sales-cancer-causing-weedkiller-glyphosate
https://www.reuters.com/article/us-bayer-litigation-settlement-idUSKBN23V2NP
Dark Waters Movie
Here isthe passphrase for July 16 - 18. Make sure this is the one you use in order to access this weekend's viewing of Dark Waters.
PASSPHRASE: (copy and paste)
32E57C9868ED489FAD2D5E78A59FD025
To watch, click the button or visit halttheharm.net/watch-dark-waters​
; If you have any issues, simply reply to this email and I'll be available through the weekend to help. You can also view the FAQ here.
Want to share?
You are welcome to share and have a watch party – though all viewers need to sign-up to get their own passcode. Please share this link https://halttheharm.net/dark-waters​
INSTRUCTIONS to Watch:
Enter the passphrase provided above.
UPCOMING EVENTS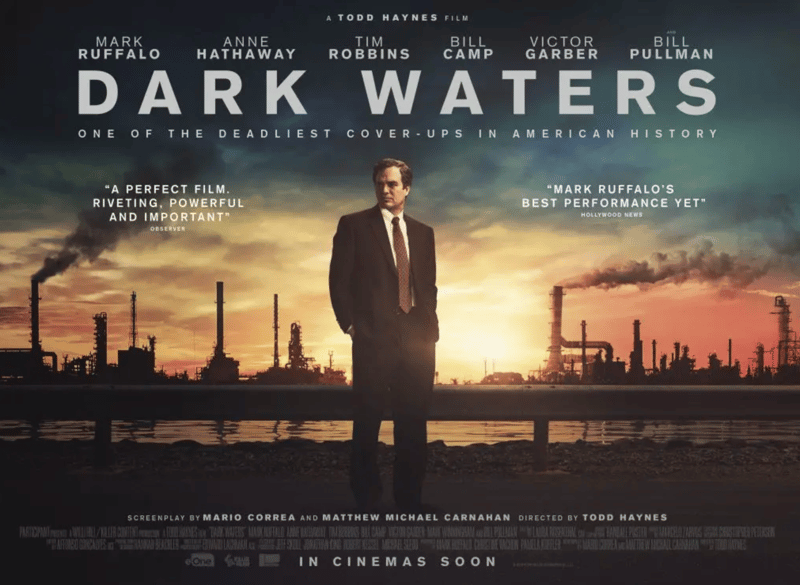 ​
More about the film.
From Participant (Spotlight, Green Book), DARK WATERS tells the shocking and heroic story of an attorney (Mark Ruffalo) who risks his career and family to uncover a dark secret hidden by one of the world's largest corporations and to bring justice to a community dangerously exposed for decades to deadly chemicals.
Corporate environmental defense attorney Rob Bilott (Academy Award®-nominee Mark Ruffalo) has just made partner at his prestigious Cincinnati law firm in large part due to his work defending Big Chem companies.
He finds himself conflicted after he's contacted by two West Virginia farmers who believe that the local DuPont plant is dumping toxic waste in the area landfill that is destroying their fields and killing their cattle.
Hoping to learn the truth about just what is happening, Bilott, with help from his supervising partner in the firm, Tom Terp (Academy Award®-winner Tim Robbins), files a complaint that marks the beginning of an epic 15-year fight—one that will not only test his relationship with his wife, Sarah (Academy Award®-winner Anne Hathaway) but also his reputation, his health and his livelihood.
---
Any questions or trouble accessing let me know. I'll be on stand by for technical support through the weekend.
Remember, to invite your friends to watch with you this weekend, send them to the sign-up page here – https://halttheharm.net/dark-waters so they can get a streaming link.
~ Ryan
12 Environmental Movies
https://www.thebrockovichreport.com/p/12-movies-to-inspire-action
New Information On Forever Chemicals
https://www.nytimes.com/2021/07/12/climate/epa-pfas-fracking-forever-chemicals.html?action=click&module=Top%20Stories&pgtype=Homepage-NYT
PFAS: map of KY; also Louisville's ranking on a graph

Emergency Rental Assistance Program

Since the beginning of the COVID-19 pandemic, member of our community and beyond have struggled with paying their rent. The U.S. Department of Treasury has a new tool to help renters with Emergency Rental Assistance programs through the American Rescue Plan Act of 2021.

Through the website, renters can view an index of the websites associated with our grantees' rental assistance programs to help tenants and landlords find programs in their areas. For more information, which the Department of Treasury will update regularly, visit the Emergency Rental Assistance Program website and to find your local community in California, visit: https://housing.ca.gov/covid_rr/index.html .
BirdDeaths in Kentucky and Indiana - link to report is enclosed in this report:

https://www.wlky.com/article/wildlife-officials-may-take-weeks-to-pinpoint-cause-of-unexplained-bird-deaths-in-kentuckiana/36819357
Much of US a Tick Time Bomb
https://weather.com/health/video/warm-wet-weather-making-much-of-the-country-a-tick-time-bomb
People in 43 Cities Are Drinking Toxic "Forever Chemicals" In Their Drinking Water
https://www.buzzfeednews.com/article/danvergano/pfas-water-new-orleans-miami-philadelphia?bfsource=relatedmanual
See the real Erin Brockovich (not Julia Roberts!) and her water fights continue - now focusing on PFAS/Forever Chemicals: https://www.scientificamerican.com/article/erin-brockovich-blasts-u-s-regulation-of-toxic-chemicals/

FEMA To Offer Financial Assistance For Pandemic Funeral Expenses

In early April, the Federal Emergency Management Agency (FEMA) will begin providing financial assistance for funeral expenses incurred after Jan. 20, 2020 for deaths related to coronavirus (COVID-19) to help ease some of the financial stress and burden caused by the pandemic. The policy was finalized this week, and FEMA is now moving rapidly to implement this funeral assistance program nationwide.

The death must have occurred in the United States, including the U.S. territories, and the District of Columbia;
The death certificate must indicate the death was attributed to COVID-19; and
The applicant must be a U.S. citizen, non-citizen national, or a qualified non-citizen who incurred funeral expenses after Jan. 20, 2020.

There are no residential or legal status requirements pertaining to the deceased person. An application for the assistance will require:

an official death certificate that attributes the death directly or indirectly to COVID-19 and shows that the death occurred in the United States, including the U.S. territories, and the District of Columbia;
funeral expense documents such as receipts and funeral home contracts that include the applicant's name, the deceased person's name, the amount of funeral expenses, and the dates the funeral expenses happened; and
proof of funds received from other sources specifically for use toward funeral costs.

FEMA's financial assistance is limited to a maximum amount of $9,000 per funeral and a maximum of $35,500 per application. In the coming weeks, FEMA plans to establish a toll-free telephone number to assist applicants with their submissions.

For more details and information on this assistance program please visit the

FEMA.gov

COVID-19 Funeral Assistance webpage by

clicking here

.
OFFICE OF GOVERNOR ANDY BESHEAR
COMMONWEALTH OF KENTUCKY
Contact: Crystal Staley
502-545-3714

Sebastian Kitchen
502-330-0799
502-564-2611
Gov. Beshear Provides Update on COVID-19
FRANKFORT, Ky. (March 3, 2021) – On Wednesday, Gov. Andy Beshear announced more than 731,000 Kentuckians have now had at least the first dose of one of the effective COVID-19 vaccines.
"These numbers continue a good trend that we see on declining case numbers. Even better, our positivity rate is now 4.60% as it continues to decline," said Gov. Beshear. "But let's remember as we work toward defeating this virus, we can't quit. Yesterday, President Joe Biden announced he now believes there will be sufficient supply for every adult in America to get vaccinated by the end of May. That's really good news and moves up the timeline."
Case Information
As of 4 p.m. Wednesday, March 3, Gov. Beshear reported the following COVID-19 numbers:
New cases today: 1,175
New deaths today: 33
Positivity rate: 4.6%
Total deaths: 4,704
Currently hospitalized: 680
Currently in ICU: 175
Currently on ventilator: 79
Top counties with the most positive cases today are: Jefferson, Kenton, Fayette, Boone and Campbell. Each county reported at least 45 new cases.
To see a list of those reported lost to the virus today, click here.
Kentucky's COVID-19 Vaccine Website, vaccine.ky.gov, shows Kentuckians which phase they are in specifically. Individuals can sign up for notifications so state officials can communicate with them when doses become available at new and existing sites. Vaccine.ky.gov also lists regional vaccination partners statewide, so Kentuckians can search their county or region and see how to schedule an appointment.
Kentucky's COVID-19 Vaccine Hotline, 855-598-2246, has the same features as the website. Kentuckians can get assistance completing the vaccine eligibility questionnaire and scheduling an appointment when doses are available.
Free or reduced-cost transportation to and from vaccine appointments is offered by public transit agencies across the commonwealth. These services are already operating in over 90 counties, covering 75% of all counties across Kentucky. Kentuckians can find transportation services near them by heading to kycovid19.ky.gov for a full list of participating public transit agencies and their phone numbers, or by calling the Kentucky COVID-19 Vaccine Hotline.
More Information
To view the full daily report, incidence rate map, information on testing locations, vaccines, contact tracing, school reports and guidance, guidance for health care providers and the White House Coronavirus Task Force reports for Kentucky and more, visit kycovid19.ky.gov.
###
Invitation for zoom Oct 30, Friday 1:00 to 3:00 P.M on Forever Chemicals/PFAS
Thispresentation is to LWV of Louisville Natural Resources Committee but any are welcome to join to see the presentation and put questions in CHAT.

This will count as an FFEA meeting.

Floyds Fork Environmental Association, UNA-USA KY & Teena Halbig, Clean Water Chair
invites you to a scheduled Zoom meeting

Topic: Teena Halbig's power point on
Forever Chemicals known as PFAS; A Massive Public Health Threat in Drinking Water & Wastewater

Time: Oct 30, 2020 01:00 PM Eastern Time (US and Canada)

Join Zoom Meeting
https://us02web.zoom.us/j/82302116816?pwd=TWc3dE53WHE2RXJzWG1hZkVUcUhvUT09

Meeting ID: 823 0211 6816
Passcode: 779198
One tap mobile
+13126266799,,82302116816#,,,,,,0#,,779198# US (Chicago)
+16468769923,,82302116816#,,,,,,0#,,779198# US (New York)

Dial by your location
+1 312 626 6799 US (Chicago) - use for Kentucky
+1 646 876 9923 US (New York)
+1 301 715 8592 US (Germantown)
+1 253 215 8782 US (Tacoma)
+1 346 248 7799 US (Houston)
+1 408 638 0968 US (San Jose)
+1 669 900 6833 US (San Jose)
Meeting ID: 823 0211 6816
Passcode: 779198
Find your local number: https://us02web.zoom.us/u/kesSgpyuhy
<![if !supportLineBreakNewLine]>
<![endif]>
<![if !vml]>

<![endif]>
United Nations Association of the United States of America Kentucky Division
UN Day & UN Human Rights Day Program:
75th ANNIVERSARY OF THE UNITED NATIONS
Past, Present, Progress
&
72nd ANNIVERSARY of HUMAN RIGHTS
<![if !vml]>
<![endif]>
"HUMAN TRAFFICKING & SEXUAL EXPLOITATION (SDG #5)
&
FOREVER CHEMICALS/PFAS (SDG#6)"
October 20,2020 (Tuesday)
FREE Zoom REGISTRATION INFORMATION BELOW
10:00 A.M. to 2:30 P.M.
Break: 20 minute YouTubes/Videos during NOON LUNCH & resume at 12:20 P.M.
NOTE: SDG #5 = Sustainable Development Goal #5 Human Trafficking, equity, empowerment & SDG #6 = Sustainable Development Goal #6 clean water and sanitation
There are 17 UN Sustainable Development Goals/Global Goals voted on by 193 countries
Sponsors
American Association of University Women of Kentucky
Floyds Fork Environmental Association
Frankfort Rotary Club
Teena Halbig
Kentucky Foundation for Women
Sifa Ndusha
Rotary District 6710
Rotary District 6740
UNA-USA Bluegrass/Lexington Chapter
UNA-USA Frankfort Chapter
UNA-USA Louisville Chapter
UNA Women at U of L
UNA at U of L
PROGRAM
10:00 A.M. Moderator Teena Halbig: Welcome, Introductions of Sponsors, etc.
10:05 A.M. Aaisha Hamid: Invocation + Young Professional Trailblazer Book Project
10:15 A.M. Bill Miller, journalist with www.globalconnectionstelevision.com: UNA-USA
10:20 A.M. Governor JoAnn Heppermann, Rotary District 6710
10:25 A.M. Governor James Glass, Rotary District 6740
10:30 A.M. Dr. Gregory O. Hall: Gubernatorial Proclamation for UN Day
10:35 A.M. Dr. Tricia Gray: Gubernatorial Proclamation for UN Human Rights Day
10:40 A.M Elected Official (invited) "Battling Human Trafficking in Kentucky"
11:00 A.M. Allyson Taylor, JD, A.M. Keynote: "Kentucky Human Trafficking Law" (bio at end)
Noon – 20 minute Break for LUNCH – just keep zoom on & return at 12:20 P.M. (youtubes shown during this time)
12:20 P.M. Tom Perez, Executive Director EPIK, P.M. Keynote: "Internet/Cyber Crimes; Reducing Demand and Human Trafficking": (bio to follow)
1:20 P.M. Satchel Walton, journalist, reporter, and author: "What's in Louisville's Drinking Water? Is it Time for CHANGE?"
1:50 P.M. Teena Halbig, U of L B.S. and Certificate in Medical Technology, MT(ASCP), Microbiologist, Virologist, Clinical Laboratory Scientist, U of L Researcher (retired) " What is in YOUR Water? Forever chemicals/PFAS in Drinking Water & Health Impacts"
2:20 P.M. Closing Remarks
Register on Zoom – registration
Teena Halbig is inviting you to a scheduled Zoom meeting.
Topic: Teena Halbig's Zoom Meeting
Time: Oct 20, 2020 10:00 AM Eastern Time (US and Canada)
Join Zoom Meeting
https://us02web.zoom.us/j/3991004022?pwd=MC9PaTlNMEkvOTNicFZMbmRodTd6Zz09
Meeting ID: 399 100 4022
Passcode: 608512
One tap mobile
+13017158592,,3991004022#,,,,,,0#,,608512# US (Germantown)
+13126266799,,3991004022#,,,,,,0#,,608512# US (Chicago) use for KENTUCKY
Dial by your location
+1 301 715 8592 US (Germantown)
+1 312 626 6799 US (Chicago) use for KENTUCKY
+1 646 876 9923 US (New York)
+1 408 638 0968 US (San Jose)
+1 669 900 6833 US (San Jose)
+1 253 215 8782 US (Tacoma)
+1 346 248 7799 US (Houston)
Meeting ID: 399 100 4022
Passcode: 608512
Find your local number: https://us02web.zoom.us/u/kHSDPDy1q
FOREVER CHEMICALS BRODCAST & PODCAST FORWARD RADIO 106.5 FM
https://soundcloud.com/wfmp-forward-radio/truth-to-power-teena-halbig-sheron-lear-satchel-walton-pfas-forever-chemicals-10-11-20
WATER AND HEALTH
https://waterandhealth.org/healthy-pools/hygiene-health/why-shower-before-swimming-in-a-pool/?utm_campaign=perspectives&utm_source=email&utm_medium=referral&utm_content=shower-before-swimming

Important:
Pre-swim showers can be rinse showers, taken while wearing your bathing suit, or cleansing, naked showers, which afford more opportunity to clean the perianal area, a source of fecal pathogens. In fact, the experts report the average person has 0.14 g of fecal matter in the perianal area and that children may have as much as 10 g. Doing the math, a pool containing 15 unshowered adults and 30 unshowered children could contain an average of 152 g of fecal matter (about 1/3 lb.) Based on the fact that there are approximately 1,000,000,000 virus particles in 1 g of feces,2 a typical community pool (about 19,000 gallons) could contain about 8,000,000 virus particles per gallon from these 45 bathers!
Fecal microorganisms can spread waterborne illnesses. One of the most problematic of these is the chlorine-resistant parasite, Cryptosporidium.
In KY, www.govoteky.org is where to go to order your application for vote by mail - must do prior to Oct. 5 and can use COVID as reason for voting by mail. Your ballot will be mailed around Oct. 28 and you must fill out and provide signatures and return in the pre-paid postage envelope right away. You can always vote in person - but please wear a mask.
***** GET OUT THE VOTE *****
UNA Advocacy Chair Jay Sjerven and Vice Chair Teena Halbig reminder that it is time to work on GOTV:
Here is a novel way to highlight voting using the creation of Karen Mulhauser's Votemeal Cookie Recipe. Feel free to send this to anyone you can to encourage voting. Some states will have vote by mail but there are deadlines to apply over the internet to request an application. Any voting information you need can be found from your Local Board of Elections or State Board of Elections. You can also ask who your representatives are in local, state and federal offices by giving your address. Attend election forums to hear candidates and ask questions.
Meanwhile, enjoy these cookies yourself - or write VOTE on them or the election date to give to friends, family, etc.!
Votemeal Cookie Recipe
[a creation of Every Woman Vote 2020]
Yes, Votemeal.
As we lead up to the November 3, 2020 national elections, we have some work to do. We need to reflect on our values and how we want them reflected in governing policy. We need to inform ourselves about the policies of candidates up and down the ballot. We need to be registered to vote and to check to see if our registration is current. We need to make sure we share this information with family, friends, colleagues and social media. And, yes, we need to vote and get out the vote.
We are trusted sources of information for these people and we can make a difference. The most important demonstration this year will be the demonstration November 3 at the ballot box
As the centennial of women's suffrage and the 55th anniversary of the Voting Rights Act aimed to overcome legal barriers at all levels that prevented African Americans from exercising their right to vote, 2020 is the year to inspire every woman to vote – women of all races, ages and regions of the country.
Making those phone calls and sending the messages to people we know and who trust us is more fun if we are eating Votemeal cookies.
Karen's Votemeal Cookie Recipe
Ingredients

· 1.5 cups flour

· 1 teaspoon ground cinnamon [optional]

· 1 teaspoon baking soda

· 1 teaspoon salt

· 1 cup [2 sticks] soft butter

· 1 cup brown sugar

· ½ cup granulated sugar

· 2 large eggs

· 2 teaspoons vanilla extract

· 1 tablespoon molasses

· 3 cups rolled oats

· 1 ¾ cups combination chocolate chips, peanut butter chips & chopped pecans. And sometimes shaved coconut

What to do

· Preheat the oven to 355°F. Lightly grease baking sheet(s).

· Beat together the butter until smooth. Add sugar and beat about 2 minutes

· Beat in the egg, then the molasses and vanilla.

· Combine in separate bowl the flour, cinnamon, baking soda and salt

· Add dry ingredients to the wet ingredients and mix well

· Add and mix well the oats and chips, nuts & coconut

· You can cover a chill in the refrigerator.

· Drop 1" dough balls on the prepared baking sheets,

· Bake the cookies for 12-14 minutes.

· Remove the cookies from the oven, and cool right on the pan, or on a rack.
Made especially for you by Karen Mulhauser
South Floyds Fork Vision Meeting
6 pm Monday March 25. 2017
Check out this link - paste in your browser (
https://louisvilleky.gov/events/south-floyds-fork-vision-plan-open-house-councilmen-benson-piagentini-engel-host-meeting
).
This South Floyds Fork Vision Plan that was worked on by a committee of 15 - but BIA = building industries association (formerly Home Builders Assn.) came in the last 4 meetings and have been actively pushing their agenda. Also changes were made so that the VP of BIA obtained the seat of another BIA committee appointee who was said to be retiring.
This plan can be googled (South Floyds Fork Vision) to see the nearly 40,000 ACRES which it encompasses.
This is your chance to vote (either by clickers or colored round stickers, etc.). This is your chance to weigh in and meet the Louisville Metro Planning & Design Planners (Michael King, Gretchen Milliken, etc. This is your chance to provide comments. Next, the plan will go before the Planning Commission for a vote, then on to Metro Council.
I am unsure if the Fregonese Associates consultants will be present? (I doubt it) but Fregonese was paid $250,000 by Councilman Stuart Benson for this study. Unfortunately, the Fregonese owner passed away unexpectedly during the study which brought it to a halt for several months - meanwhile, developments went thru planning or are in the stages of going thru the planning process that amount to many hundreds of acres where no sewer infrastructure, etc. is present in the hinterlands of the Floyds Fork Watershed.
However, MSD is apparently working now to appease developers wants for sewers in these remote locations which changes the entire planning because, Fregonese consultants met with MSD earlier and MSD showed the two areas MSD intended for sewer expansion.
How does this affect you? When the sewers built by developer's chosen construction companies are turned over to MSD,

all

rate payers in Jefferson County will have additional fees toward this infrastructure upkeep, etc.
I won't mention the roads and traffic as well as costs - you can!
I will mention the need to preserve TREE CANOPY - you can! Floyds Fork Watershed is 70 - 100% (i.e., 100% if forest) and

please ask for 50% TREE CANOPY to remain

. If not, there will be drastic changes related to wind changes, climate (generally 3 to 10 degrees cooler out here), temperature changes and a lot of the ecology can be lost. But it looks like only 20% will remain without your voice and vote. Unfortunately, large trees will come down and be replaced by maybe 1 1/2 inch caliper tiny trees that will not have the tree cover/tree canopy lost for 20 - 30 years. This will increase temperature in the area.
A fee in lieu is planned. Please ask that any development that will not put back in the required number of trees have any trees planted off site or paying into a tree fund - that those trees be planted withing 1/2 mile of the original site.
Please ask for a description of Parklands to include all entities involved. Currently, Lou Metro Planners have refused to do this. I've given them all the info and shortened it to 27 words.

Parklands of Floyds Fork area is composed of 21st Century Parks, Future Fund, Metro Parks, KY Heritage Land Conservation Trust, Louisville Water Company, MSD and private property owners.


NOTE: There is a compact agreement between the first 3 above with 21st owning 1,100 acres, Future Fund owning over 2,000 acres and Metro Parks about 400 acres.

I have

REPEATEDLY

asked Lou Metro government planners and Fregonese planner to be truthful, transparent and correct to let the public know (and not deceive the public) that 21st Century Parklands does not own and does not control all the properties shown; however, the stage was set at the beginning when they were given the impression that all the Parklands is under the control of all the properties which is false. It seems local government can't or won't decipher the land holdings to provide accurate information which can be referred to for decades!

One of the planners at the last meeting (after planners/government reneged on agreement in the prior meeting to list all parties at the beginning of the plan and thus, within the green area designating Parklands on the mapping) said reasoning was the other entities might go out of business! I had to laugh and say, "This is LOCAL and STATE GOVERNMENT we are talking about and the entities were set up via legislation - they will NOT go out of business. Future Fund was established in mid - 1990's and 21st later on in 2004 or 5". I believe all the entities preceded 21st Century in being established - so how do you know 21st Century will not go out of business?"

It is also improper for the plan to send any person with land or trees

(they are worth MONEY, so government must be fair and list all entities who can accept or purchase

) for donation or sale to Parklands when all parties should be listed, including JCET = Jefferson county Environmental Trust which is local government and PACE = Purchase of Agricultural Conservation Easements which is a state program plus all the other entities.

So do as you want and if you get a chance to comment on these points above or ask questions about them, please do.

See you Monday - tomorrow at 6pm in Beckley Creek Park (formerly named William F. Miles Park and still owned by Metro Parks/local government - but a Memorandum of Understanding for 21st Century for Operation and Management for 5 years which is renewable or can be canceled by either party with one year's notice; note: same deal for the other Metro Park.).

Please take time to attend or at least email in comments to Michael.King3@louisvilleky.gov.

Sincerely,
Teena Halbig
6 years Metro Parks Advisory Commissioner
3 years PACE Board Commissioner and Honorary Agricultural Commissioner bestowed by James Comer
South FF Vision Plan Advisory Commission
<![if !supportLineBreakNewLine]>
<![endif]>
South Floyds Fork Plan Meetings
Advisory Group: Wednesday, February 27, 2019 from 6-8:30 Jeffersontown Firehouse
Advisory Group: Tuesday, March 12, 2019 from 6-8:30 (Jeffersontown Firehouse)
SFFV Open House: Monday, March 25, 2019 from 6-9 (Gheens Foundation Building, The Parklands; 1421 Beckley Creek Parkway)
Children of One of Our Members Have Been Working to Improve Floyds Fork Creek, Meeting With Govenment
Officals and Working With Kentukey Heirs To Our Oceans
See photos and follow link below for more information
https://www.kentuckyheirstoouroceans.com/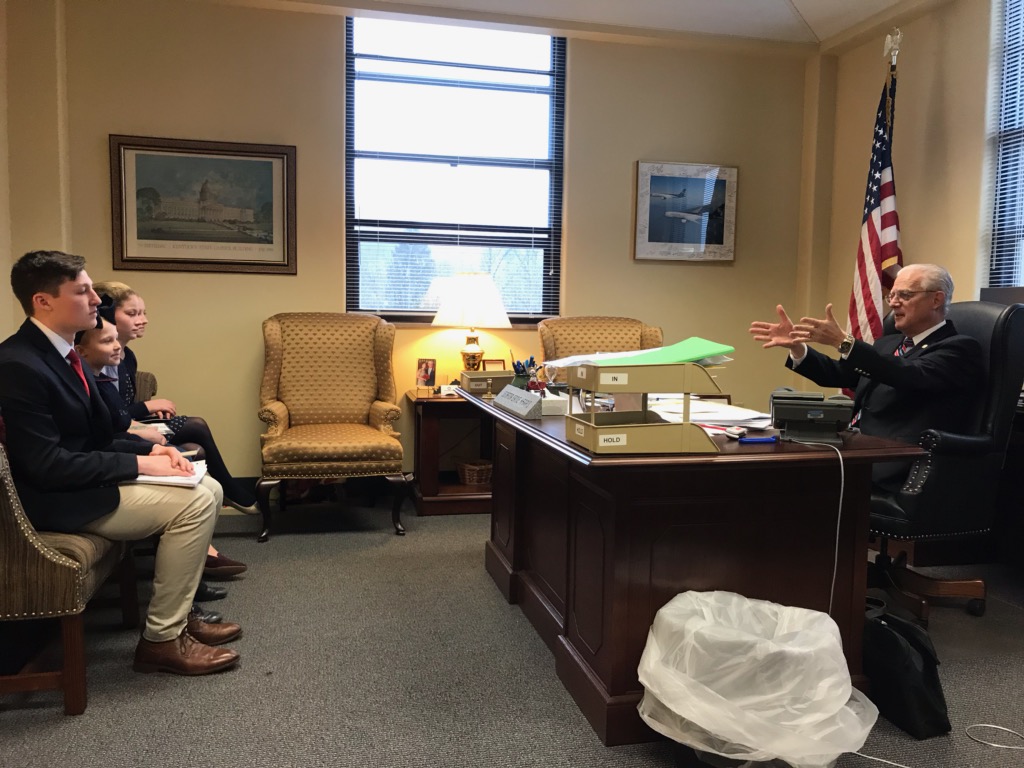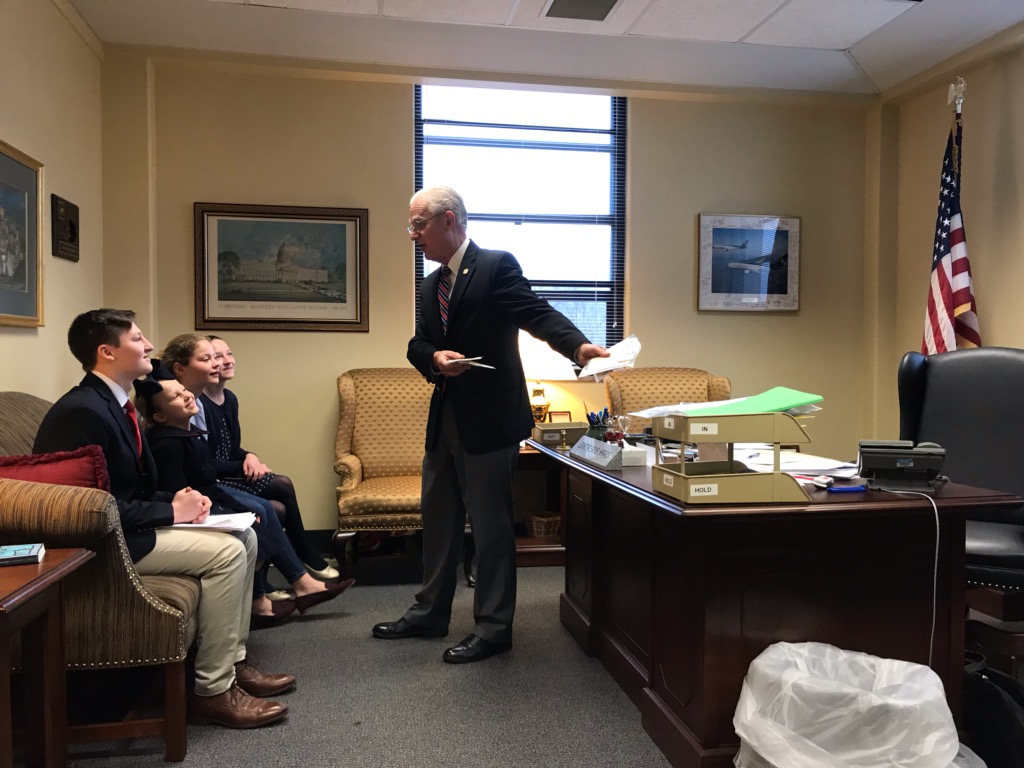 FFEA works in Bullitt County with Neighbors fighting Rogers Rock Quarry to keep this business further away from their homes in a karst area along Floyds Fork Creek and for more transparency from the company for a few years. Teena said, "Only with the great help of Tom FitzGerald, Director of Kentucky Resources Council's legal expertise was this outcome possible (see his Newsletter article of 9-1-17).
Chris Sansbury, neighborhood leader of Bullitt Citizens NeighborhoodS Coalition said, "KRC and a community effort by neighbors, Teena Halbig and the FLOYDS FORK ENVIRONMENTAL ASSOCIATION made all those things possible!"
KRC Newsletter article of 9-1-17:
Rogers Group dba Bullitt County Stone

A settlement agreement in non-coal permit challenge brought by Chris Sansbury and Grover Vorbrink against Bullitt County Stone will result in additional protections for Petitioners and their neighborhood outside of Shepherdsville.

Under the Settlement, the Petitioners gain the ability to enforce compliance by Rogers with zoning restrictions that had previously been enforceable only by the City of Hillview. Additionally, a 1,000-foot setback on any surface operations or facilities, excepting ventilation shafts required by MSHA can be within 750 feet provided that they are bermed to limit noise. A state permit amendment is required for any proposed surface operations or facilities. All residents on Castlerock Drive will be offered a pre-blast survey, and Rogers will share a blasting schedule and provide email notice for any unscheduled blasts. Finally, certain roads are agreed upon as off-limits for truck traffic, and the parties have agreed to monthly local meetings to share information and concerns – an effort to build a more positive relationship apart from regulatory matters.

In a recent email, Chris Sansbury reported that the pre-blast surveys had been completed and that they had begun the neighborhood meetings with Rogers. He said "I am optimistic that things will continue to improve because of the meetings you made possible!"
South Floyds Fork Area Study
The South Floyds Fork Area Study is an ongoing process resulting in a visionary plan that will provide guidance for authentic, healthy, equitable, sustainable, and well-connected growth in the South Floyds Fork area. The recently completed 4,000 acre Parklands of Floyds Fork is a transcendent asset for Louisville that includes four major parks linked by a park drive, an urban trail system, and watershed. The Parklands will spur development and increase population in the area. The South Floyds Fork Area Plan will serve as a guide for future development and infrastructure investments in and around the study area.
Louisville Metro has contracted Fregonese Associates as the lead consultant to facilitate this process. An Advisory Group has been recommended by Metro Councilman Stuart Benson, and appointed by Mayor Fischer, to assist in the guidance of this update.
Click here to find organizational chart of the South Floyds ForkThe approximate study area is bordered by Bardstown Road and Shelbyville Road to the north and south and the Gene Snyder Expressway and the county line to the west and east.The first neighborhood advisory group meeting of the South Floyds Fork Area Plan will be held Wednesday, August 2nd from 6:00 to 7:30 PM in the 2nd floor community room of the Jeffersontown Fire Department (10540 Watterson Trail). This meeting is open to the public.ADVISORY GROUP AGENDA
Bluebird Box Outing finds Bugs, Bees, Critters and BIRDS!
Photos courtesy of Barbara Woerner
1. Praying mantis that is brown (different species than the green ones)
2. Bee on vegetation - photo so good you can see the pollen on the bee!
3. Frog defending any bird coming to nest in this Bluebird box! Actually, these frogs continue to be in the opening of two bird boxes on numerous outings!
4. Carolina Wren offspring? - these nestlings might be 2 days old and are very hungry!! Mother heard nearby
5. American Snout Butterfly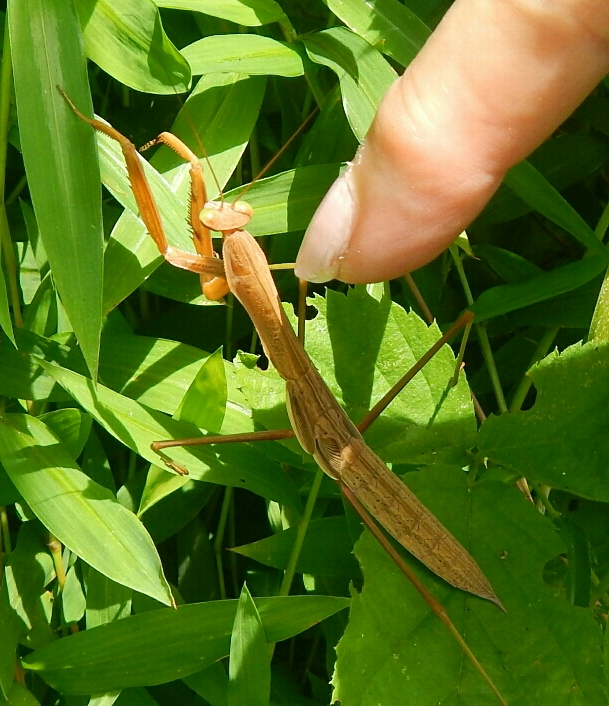 .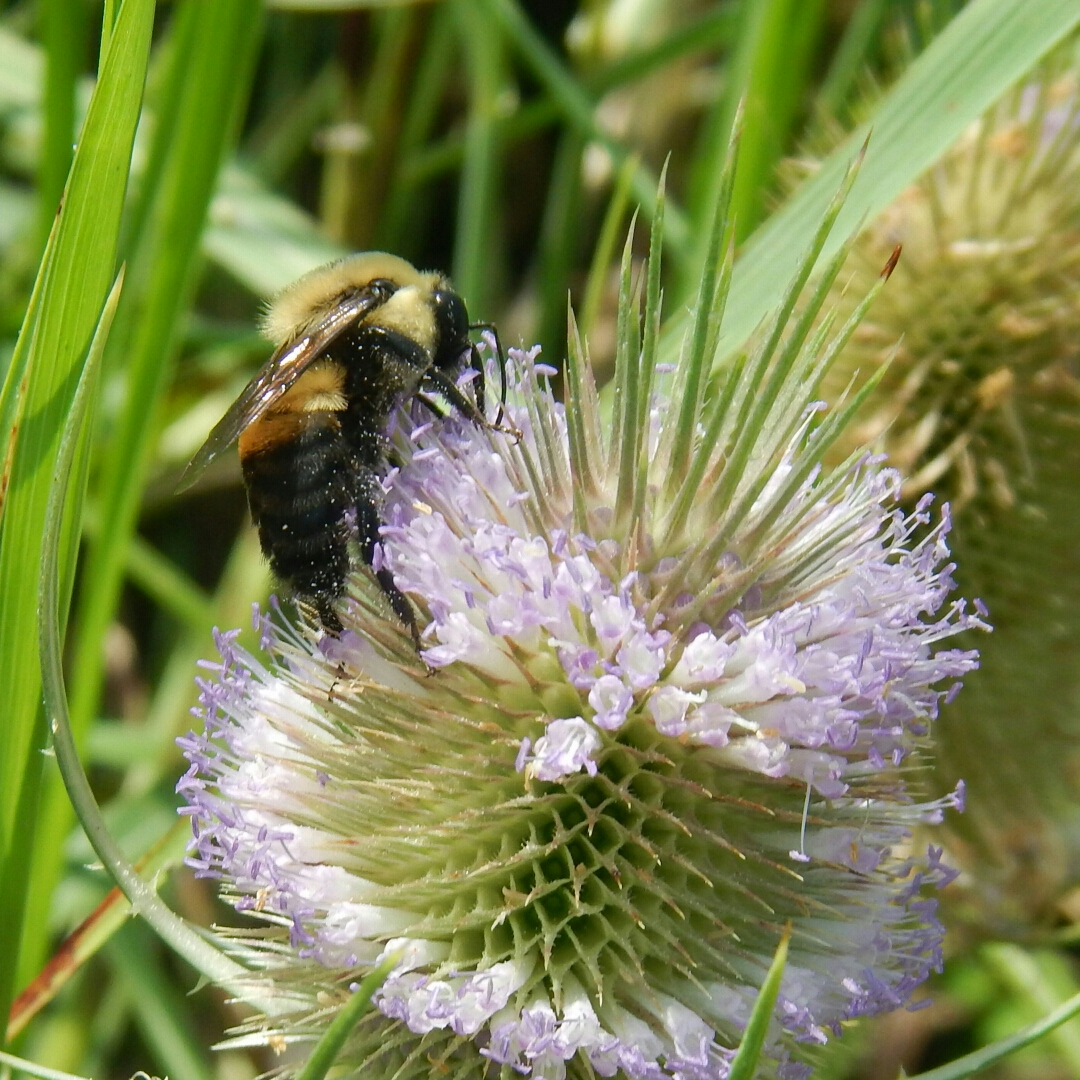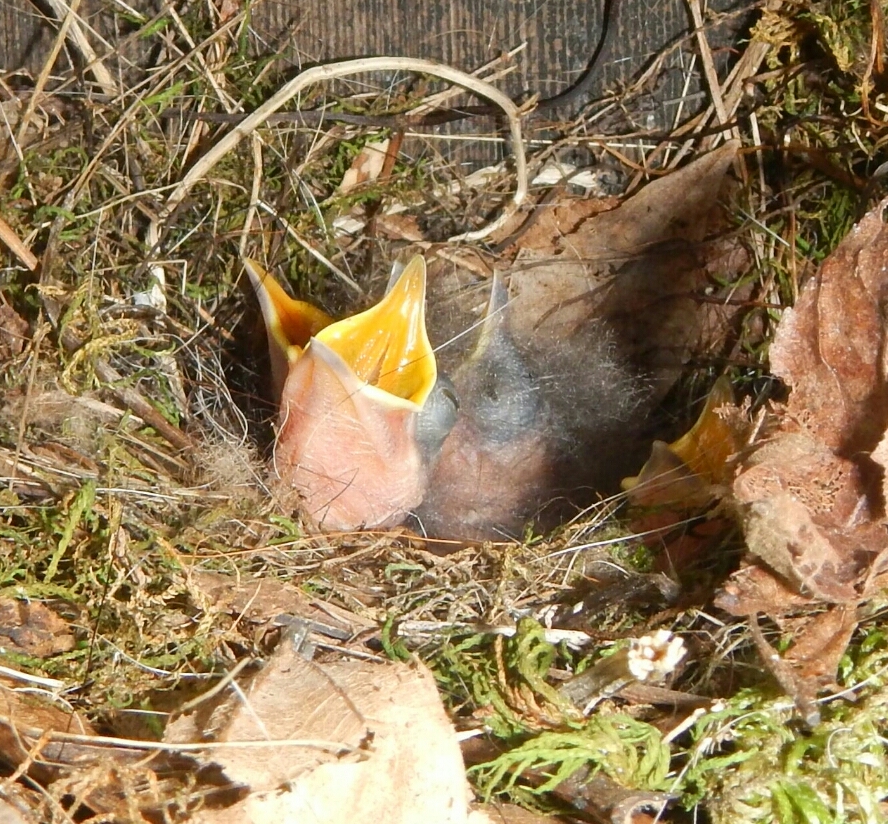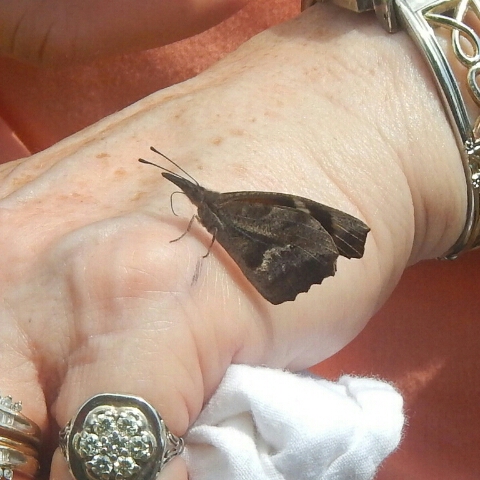 Do your part to help stop the spread of tick-borne disease by catching and sending ticks to the Bay Area Lyme Foundation.
Put the tick (dead or alive) in a ziplock bag, along with a wet cotton ball or paper towel.
Fill out an information card, provided online at www.bayarealyme.org, then send it all in.
Reference: Courier-Journal Parade Picks, 5-7-17
"Pet Care"
By Dr. Pat Kennedy
Fern Creek Medical Center, 6902 Bardstown Road, Lou. 40291, 499-6535
Jefferson Animal Center, 4504 Outer Loop, Lou. 40219, 966-4104, Open 24 hrs.
www.jeffersonanimanhospitals.com, www.LouisvilleVets.com//
#LouisvilleVets, @LouisvilleVets//
Q: I just found a tick on my puppy? Help! How do I get it off safely and can I catch anything?
A: Springtime is definitely the peak time for Ticks and yes, there are several serious diseases that both you and your pet can suffer from. There are 15 species of ticks in North America but only a few that can affect you or your dog: the American Dog Tick, Lone Star Tick, Deer or Blacklegged tick and Brown Dog Tick. Ticks can transmit Lyme disease,Ehrlichiosis, Rocky Mountain Spotted Fever and Anaplasmosis, all serious diseases of people and pets
There are several excellent preventatives for your pets such as Seresto Flea/tick collar, Frontline Plus, Brevecto and Nexguard. Walking through the woods or tall grass is a quick way to have ticks attach to your body or your pet. We recommend vaccinating your dog for Lyme disease if you do any camping, hunting or walking in the woods.
Removing a tick with blunt tweezers or disposable gloves is recommended. If you must use your fingers, shield them with a tissue or paper towel. Grasp the tick as close to the skin surface as possible, reducing the possibility of the head detaching which may increase the chances of infection. Do not twist or jerk the tick but pull straight out. Applying some medicinal alcohol can cause the tick to loosen its grip. Wash your hands after removing the tick and be sure to check all over your pet's body for additional parasites. Check our website www.jeffersonanimalhospital.com/library for more information about ticks and tick borne diseases
Q: Both of my dogs and my cat go out in my back yard. What are some of the potential problems this Spring that I should be aware of?
A: This is a GREAT question. Garden toxins such as fertilizers, herbicides and insecticides can be a big problem. Although pesticides are much safer than 30 years ago, they often can cause vomiting and diarrhea. And fertilizers often contain iron which can be a problem. Check the ingredients list and look for antidote instructions.
Moldy foods that your pet finds outdoors can create huge problems if your pet gets into your compost bin that has decomposed dairy or meat products. Symptoms can start within 30 minutes including panting, drooling, nausea and tremors.
Mole and gopher baits are very toxic to your pet. It only takes a very small amount to cause significant and often fatal effects. They contain zinc phosphide or bromethalin and there is no antidote. The bromethalin baits are often found as a gummy worm shaped strip.
Snail and slug baits contain metaldehyde and can be pellets, powder, granules or liquid. They cause extreme tremor, seizures and fever. Treatment requires intensive care hospitalization.
Mulch can be toxic as well as cause an obstruction in the bowels. Cocoa bean mulch is the worst due to the methylzanthine (theobromine and caffeine) content.
If you change your car's antifreeze or coolant solutions this Spring, be aware that these products are highly fatal to dogs and cats if they drain into in your driveway. Even a drop can be fatal if ingested by your pet. It's sweet tasting and odorless and contains Ethylene Glycol. Signs can occur within 30 minutes including incoordination, seizures, coma and death. Time is critical to start any treatments so please call us as soon as you are aware of your pet's possible ingestion. And ask your local auto and grocery story to stock non-toxic antifreeze products.
Some vegetable plants are not safe for pets. Tomato plants (not the ripe fruit) can cause gastrointestinal irritation ataxia and weakness. Rhubarb leaves can cause kidney failure in large doses. Onions and garlic can result in red blood cell destruction and anemia. Grapes and raisins can cause acute kidney failure. Wild mushrooms can cause vomiting/diarrhea and neurological symptoms in people and animals.
To be safe always call one of the Pet Poison Control Numbers: ASPCA 888-426-4435, Pet Poison Helpline 800-213-6680. If you suspect your pet may have ingested a chemical or toxin, there is a fee for contacting these services but the advice and treatment recommendations can be lifesaving for your pet.
FFEA's Bluebird Trails Project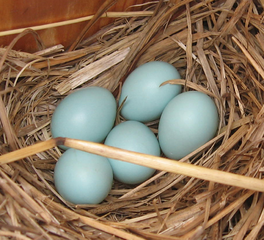 Bluebird eggs
Wikipedia 2-23-2017
Male Eastern Bluebird
By William H. Majoros - Own work
Will you help feed the Bluebirds?
Can you make a donation toward the plantings for food?
FFEA will be providing plantings for winter food due to the lack of insects to forage on in colder weather.
Winter food sources are dogwood, hawthorn, wild grapes, sumac and hackberry seeds. Feel free to donate a tree! or provide funds for them
Also Fosteri #2 (female) holly provides lots of berries for late winter and early spring
American Bittersweet
FFEA Bluebird Project Volunteers would like to have several dogwood trees to plant. Would you want to volunteer to help plant the trees? We welcome your help!
If you want to become an FFEA member, that is also appreciated
Facts about Eastern Bluebirds:
size is 6.5 to 8.5 inches

wingspan 9.8 to 12.6 inches

male's call is a soft warble of "jeew" or "chir-wi" or melodious song chiti WEET wewidoo"

mate in spring and summer
broods are typically 2 per season