B
L
Like us on
Results of 27th Creek Sweep June 2, 2018
The 27th Annual Creek Sweep on June 2, 2018 was a success. On Friday June 1, 2018 there were some doubt that we would be able to use the canoes because of all the rain during the week raised the water level in the creek.
As it turned out, Floyds Fork Creek cooperated and we were able to launch canoes on Saturday. The water was still swift and deep but determined to be safe to canoe. We had 50 people show up with 29 taking to canoes to find trash in the creek. We launched from Beckley Creek Park and took out at the Fisherville Canoe access which made for about a 6 mile trip. We removed 621 lbs of trash and 1 tire. The high, swift water hindered removing more trash.
Certificates for their continued support were presented to Councilman Stuart Benson and Councilman Robin Engel.
A certificate was presented to Dr. Pat Kennedy, DVM for her many years of support to FFEA and the Creek Sweep.
SeeSomething Say Something!!!!
We all know that illegal dumping--putting waste on property that is not licensed as a disposal facility--is an eyesore that is expensive to clean up, diminishes quality of life, discourages economic development and even sends plastic debris into our waterways.
That's why people caught dumping along our city's alleys, sidewalks, fields and roadsides are subject to fines and impoundment of any vehicle used in the dumping. That's where citizens can help with the problem. If you witness illegal dumping while it's happening, report it.
We've developed a new online form you can use to tell us where it happened, describe the vehicle(s) involved, preferably with license plate number(s), and even upload pictures. Of course you can always call Metro Call 311 or 574-5000. For more information about illegal dumping, including a link to the reporting form, visit our illegal dumping webpage.
FFEA works in Bullitt County with Neighbors fighting Rogers Rock Quarry to keep this business further away from their homes in a karst area along Floyds Fork Creek and for more transparency from the company for a few years. Teena said, "Only with the great help of Tom FitzGerald, Director of Kentucky Resources Council's legal expertise was this outcome possible (see his Newsletter article of 9-1-17).
Chris Sansbury, neighborhood leader of Bullitt Citizens NeighborhoodS Coalition said, "KRC and a community effort by neighbors, Teena Halbig and the FLOYDS FORK ENVIRONMENTAL ASSOCIATION made all those things possible!"
KRC Newsletter article of 9-1-17:
Rogers Group dba Bullitt County Stone

A settlement agreement in non-coal permit challenge brought by Chris Sansbury and Grover Vorbrink against Bullitt County Stone will result in additional protections for Petitioners and their neighborhood outside of Shepherdsville.

Under the Settlement, the Petitioners gain the ability to enforce compliance by Rogers with zoning restrictions that had previously been enforceable only by the City of Hillview. Additionally, a 1,000-foot setback on any surface operations or facilities, excepting ventilation shafts required by MSHA can be within 750 feet provided that they are bermed to limit noise. A state permit amendment is required for any proposed surface operations or facilities. All residents on Castlerock Drive will be offered a pre-blast survey, and Rogers will share a blasting schedule and provide email notice for any unscheduled blasts. Finally, certain roads are agreed upon as off-limits for truck traffic, and the parties have agreed to monthly local meetings to share information and concerns – an effort to build a more positive relationship apart from regulatory matters.

In a recent email, Chris Sansbury reported that the pre-blast surveys had been completed and that they had begun the neighborhood meetings with Rogers. He said "I am optimistic that things will continue to improve because of the meetings you made possible!"
South Floyds Fork Area Study
The South Floyds Fork Area Study is an ongoing process resulting in a visionary plan that will provide guidance for authentic, healthy, equitable, sustainable, and well-connected growth in the South Floyds Fork area. The recently completed 4,000 acre Parklands of Floyds Fork is a transcendent asset for Louisville that includes four major parks linked by a park drive, an urban trail system, and watershed. The Parklands will spur development and increase population in the area. The South Floyds Fork Area Plan will serve as a guide for future development and infrastructure investments in and around the study area.
Louisville Metro has contracted Fregonese Associates as the lead consultant to facilitate this process. An Advisory Group has been recommended by Metro Councilman Stuart Benson, and appointed by Mayor Fischer, to assist in the guidance of this update.
Click here to find organizational chart of the South Floyds ForkThe approximate study area is bordered by Bardstown Road and Shelbyville Road to the north and south and the Gene Snyder Expressway and the county line to the west and east.The first neighborhood advisory group meeting of the South Floyds Fork Area Plan will be held Wednesday, August 2nd from 6:00 to 7:30 PM in the 2nd floor community room of the Jeffersontown Fire Department (10540 Watterson Trail). This meeting is open to the public.
Bluebird Box Outing finds Bugs, Bees, Critters and BIRDS!
Photos courtesy of Barbara Woerner
1. Praying mantis that is brown (different species than the green ones)
2. Bee on vegetation - photo so good you can see the pollen on the bee!
3. Frog defending any bird coming to nest in this Bluebird box! Actually, these frogs continue to be in the opening of two bird boxes on numerous outings!
4. Carolina Wren offspring? - these nestlings might be 2 days old and are very hungry!! Mother heard nearby
5. American Snout Butterfly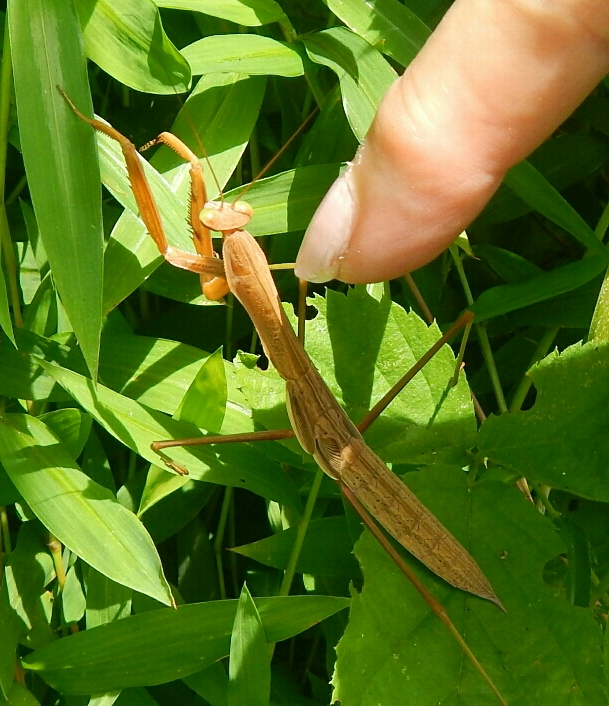 .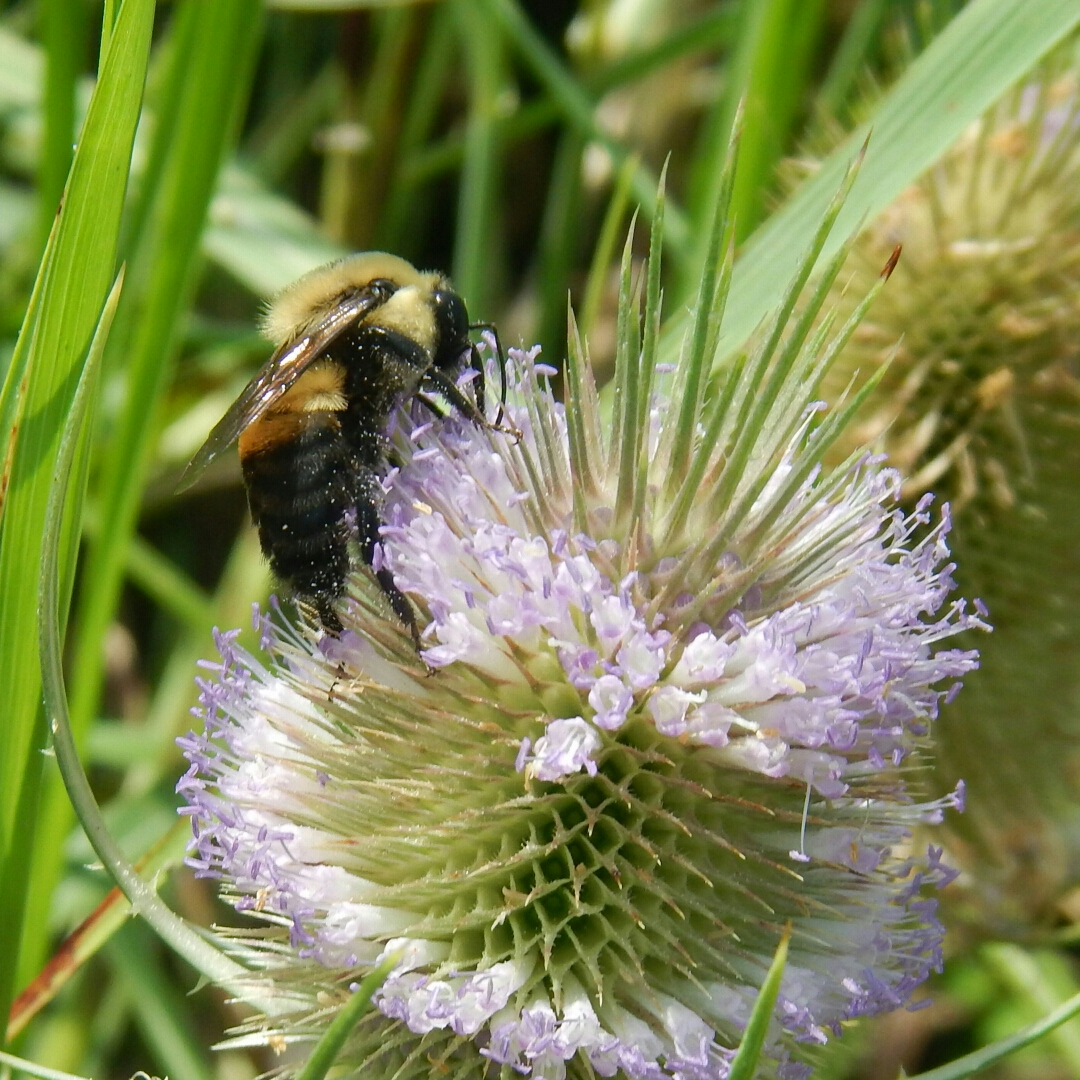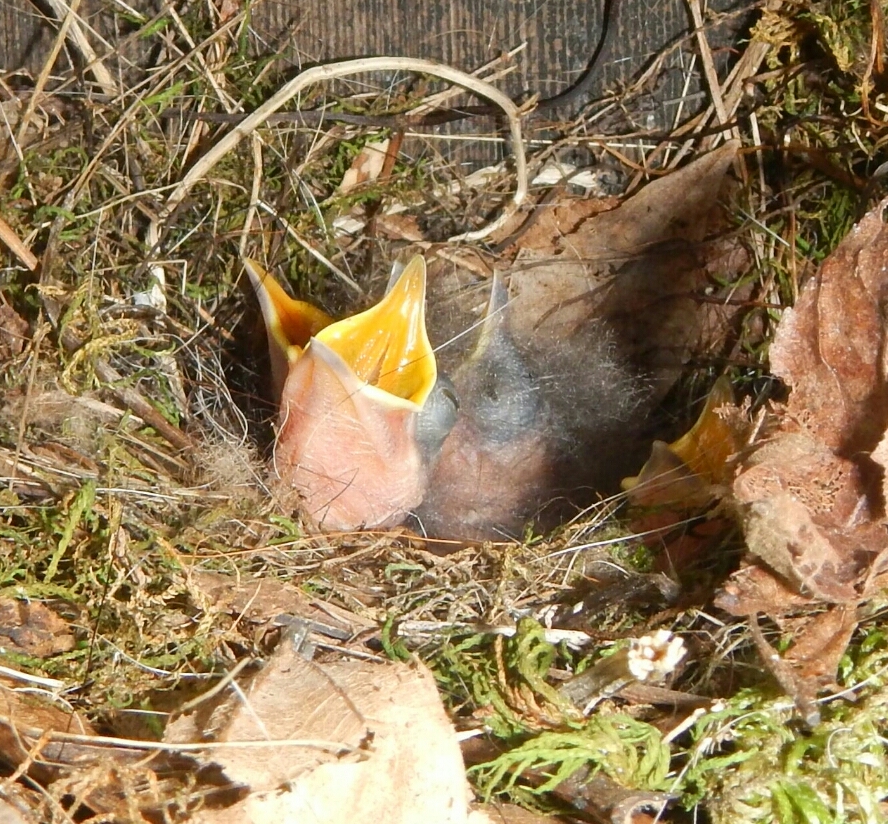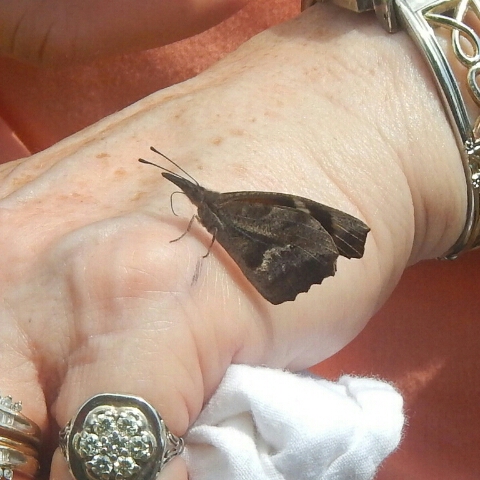 Do your part to help stop the spread of tick-borne disease by catching and sending ticks to the Bay Area Lyme Foundation.
Put the tick (dead or alive) in a ziplock bag, along with a wet cotton ball or paper towel.
Fill out an information card, provided online at www.bayarealyme.org, then send it all in.
Reference: Courier-Journal Parade Picks, 5-7-17
"Pet Care"
By Dr. Pat Kennedy
Fern Creek Medical Center, 6902 Bardstown Road, Lou. 40291, 499-6535
Jefferson Animal Center, 4504 Outer Loop, Lou. 40219, 966-4104, Open 24 hrs.
www.jeffersonanimanhospitals.com, www.LouisvilleVets.com//
#LouisvilleVets, @LouisvilleVets//
Q: I just found a tick on my puppy? Help! How do I get it off safely and can I catch anything?
A: Springtime is definitely the peak time for Ticks and yes, there are several serious diseases that both you and your pet can suffer from. There are 15 species of ticks in North America but only a few that can affect you or your dog: the American Dog Tick, Lone Star Tick, Deer or Blacklegged tick and Brown Dog Tick. Ticks can transmit Lyme disease,Ehrlichiosis, Rocky Mountain Spotted Fever and Anaplasmosis, all serious diseases of people and pets
There are several excellent preventatives for your pets such as Seresto Flea/tick collar, Frontline Plus, Brevecto and Nexguard. Walking through the woods or tall grass is a quick way to have ticks attach to your body or your pet. We recommend vaccinating your dog for Lyme disease if you do any camping, hunting or walking in the woods.
Removing a tick with blunt tweezers or disposable gloves is recommended. If you must use your fingers, shield them with a tissue or paper towel. Grasp the tick as close to the skin surface as possible, reducing the possibility of the head detaching which may increase the chances of infection. Do not twist or jerk the tick but pull straight out. Applying some medicinal alcohol can cause the tick to loosen its grip. Wash your hands after removing the tick and be sure to check all over your pet's body for additional parasites. Check our website www.jeffersonanimalhospital.com/library for more information about ticks and tick borne diseases.
Q: Both of my dogs and my cat go out in my back yard. What are some of the potential problems this Spring that I should be aware of?
A: This is a GREAT question. Garden toxins such as fertilizers, herbicides and insecticides can be a big problem. Although pesticides are much safer than 30 years ago, they often can cause vomiting and diarrhea. And fertilizers often contain iron which can be a problem. Check the ingredients list and look for antidote instructions.
Moldy foods that your pet finds outdoors can create huge problems if your pet gets into your compost bin that has decomposed dairy or meat products. Symptoms can start within 30 minutes including panting, drooling, nausea and tremors.
Mole and gopher baits are very toxic to your pet. It only takes a very small amount to cause significant and often fatal effects. They contain zinc phosphide or bromethalin and there is no antidote. The bromethalin baits are often found as a gummy worm shaped strip.
Snail and slug baits contain metaldehyde and can be pellets, powder, granules or liquid. They cause extreme tremor, seizures and fever. Treatment requires intensive care hospitalization.
Mulch can be toxic as well as cause an obstruction in the bowels. Cocoa bean mulch is the worst due to the methylzanthine (theobromine and caffeine) content.
If you change your car's antifreeze or coolant solutions this Spring, be aware that these products are highly fatal to dogs and cats if they drain into in your driveway. Even a drop can be fatal if ingested by your pet. It's sweet tasting and odorless and contains Ethylene Glycol. Signs can occur within 30 minutes including incoordination, seizures, coma and death. Time is critical to start any treatments so please call us as soon as you are aware of your pet's possible ingestion. And ask your local auto and grocery story to stock non-toxic antifreeze products.
Some vegetable plants are not safe for pets. Tomato plants (not the ripe fruit) can cause gastrointestinal irritation ataxia and weakness. Rhubarb leaves can cause kidney failure in large doses. Onions and garlic can result in red blood cell destruction and anemia. Grapes and raisins can cause acute kidney failure. Wild mushrooms can cause vomiting/diarrhea and neurological symptoms in people and animals.
To be safe always call one of the Pet Poison Control Numbers: ASPCA 888-426-4435, Pet Poison Helpline 800-213-6680. If you suspect your pet may have ingested a chemical or toxin, there is a fee for contacting these services but the advice and treatment recommendations can be lifesaving for your pet.
FFEA's Bluebird Trails Project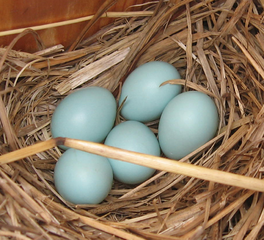 Bluebird eggs
Wikipedia 2-23-2017
Male Eastern Bluebird
By William H. Majoros - Own work
Will you help feed the Bluebirds?
Can you make a donation toward the plantings for food?
FFEA will be providing plantings for winter food due to the lack of insects to forage on in colder weather.
Winter food sources are dogwood, hawthorn, wild grapes, sumac and hackberry seeds. Feel free to donate a tree! or provide funds for them
Also Fosteri #2 (female) holly provides lots of berries for late winter and early spring
American Bittersweet
FFEA Bluebird Project Volunteers would like to have several dogwood trees to plant. Would you want to volunteer to help plant the trees? We welcome your help!
If you want to become an FFEA member, that is also appreciated
Facts about Eastern Bluebirds:
size is 6.5 to 8.5 inches

wingspan 9.8 to 12.6 inches

male's call

is a soft warble of "jeew" or "chir-wi" or melodious song chiti WEET wewidoo"

mate in spring and summer
broods are typically 2 per season